Doctor Drums and the Ragtime Kidd
1988 Recording
Doctor Drums and the Ragtime Kidd is a Kingston Band formed in 1983 consisting of Gary Barratt on drums and Ross MacLachlan on piano and vocals. We started out playing ragtime exclusively at the Summer Pantry restaurant behind City Hall for minimum union wages ($12 leader + $6 sideman/hour). That 2 hour gig landed us $36 + tips and a piece of quiche! Shortly after that we started playing music in the park under the Music Performance Trust Fund program.
We incorporated blues, barrelhouse and boogie-woogie into our repertoire. Essentially we played hundreds of songs written long before we were even born.
Later that year we were signed for 6 nights at the Ramada Inn Kingston. We found out very quickly that audiences want to hear songs they are familiar with! Hah!! We scrambled to add popular songs to our repertoire. Throughout the 1980s we played everything from boat cruises, business functions, dances, birthdays and backyard BBQs.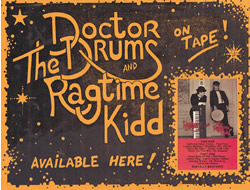 In 1988 we recorded the self titled "Doctor Drums and the Ragtime Kidd" cassette tape at the Queen's University School of Music. Queen's had a 10' concert grand piano and an excellent studio. Peter Gross and John Loughrey were the engineers and did a great job!. The album had traditonal ragtime and boogie like the Harlem Rag and Honky Tonk Train as well as some novelty songs like "Oh Susanna, dust off that Ol' Piana". We sold 1500 copies from our gigs from 1988 to 1990. Gary's father Jim Barratt was a huge Bing Crosby fan. Jim would sing songs like "White Christmas" and "Easter Parade" to enthusiastic crowds at places like the Queen's Grad Club. Jim was singing the original 1928 version of "Just a Gigolo" as a lament, the way is was supposed to be sung BEFORE David Lee Roth made a bouncy pop/rock hit out of it in 1985, We included Jim's version of "Just a Gigolo" on our recording.
Gary created a very inventive marketing pamphlet with hilarious claims that we could play just about anything, that we were perfect for your next event no matter what it was:. Please check out our marketing pamphlet Cover and Contents.
Gary Barratt went back to England from 1990-1995 and we started playing again shortly after that.
By the late 1990s, the market had changed. People who liked "California Here I Come" and Toot Toot Tootsie" had moved into retirement homes. To survive, we had to play a lot more rock'n'roll, Beatles and Elton John.
3 songs (Harlem Rag, Yes Sir That's My Baby, Camptown Races) from our 1988 "Bandstand" recording are available on appleMusic and on all major streaming platforms like Spotify, YouTube Music, Amazon, iTunes, Google Music, Pandora and more.